Summertime is here and July 4th is the kickoff! We love Independence Day and everything RED, WHITE and BLUE! It's a time for parades, picnics, barbecues, beach days, hot summer nights, fireworks and of course, good food! We've pulled together this list of tasty, and beautiful red, white and blue-themed recipes for you to enjoy making this holiday weekend. They are easy to make and all are gluten and dairy-free. We hope you have a blast this Fourth of July!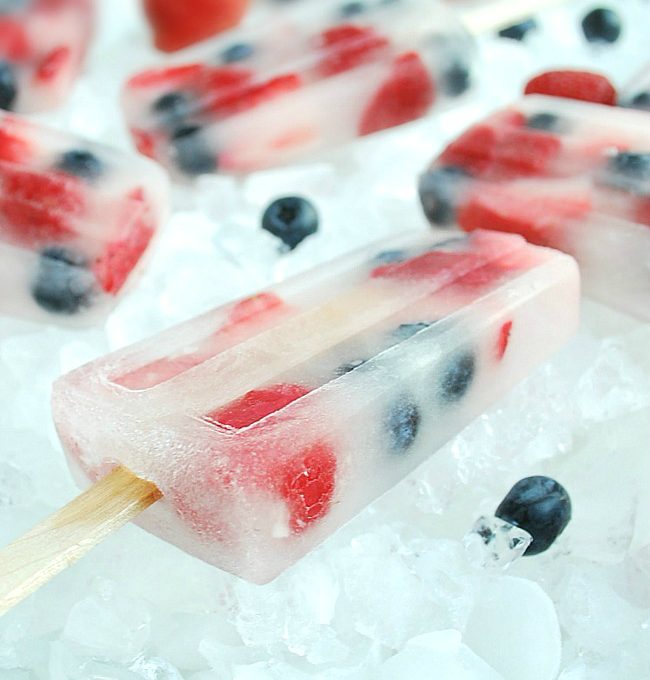 Photo Credit: Back To The Book Nutrition
These popsicles are easy to make, and look how pretty they are! We're so lucky that seasonal summer fruits come in such great patriotic colors.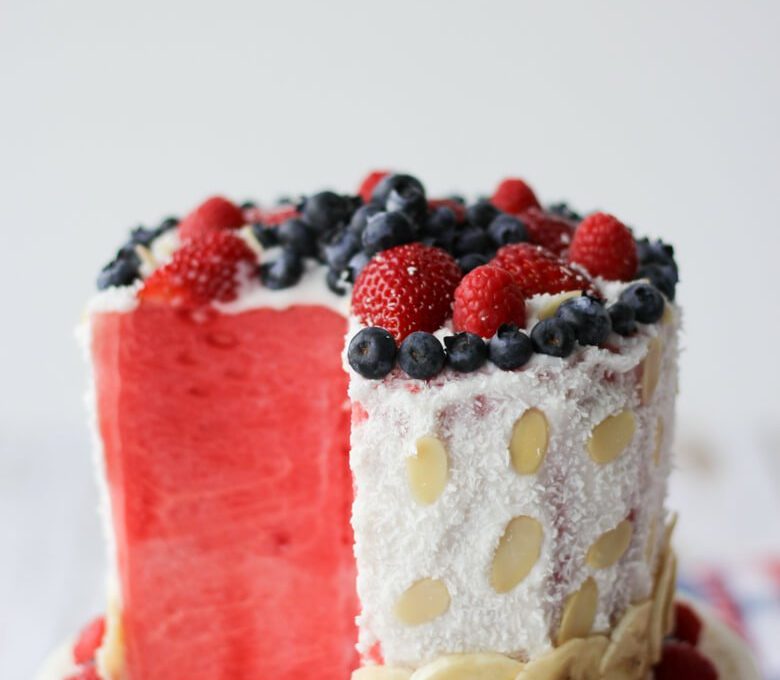 Photo Credit: Abbey's Kitchen
Yummy! We love cake…..and we love watermelon. Doesn't this make a beautiful dessert? Have fun decorating!
Photo Credit: Tia & Talia's Tasty Treats
This is one of our favorite 4th of July snacks. Who can resist a fruit flag? Kids have a lot of fun putting the fruit on the skewers….we sure did!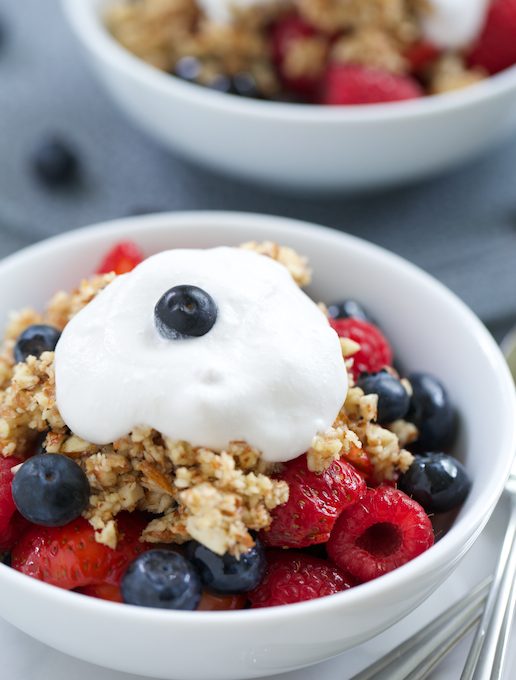 Photo Credit: Get Inspired Everyday
This is an easy way to make a quick cobbler-type dessert without having to turn on the oven on a hot day.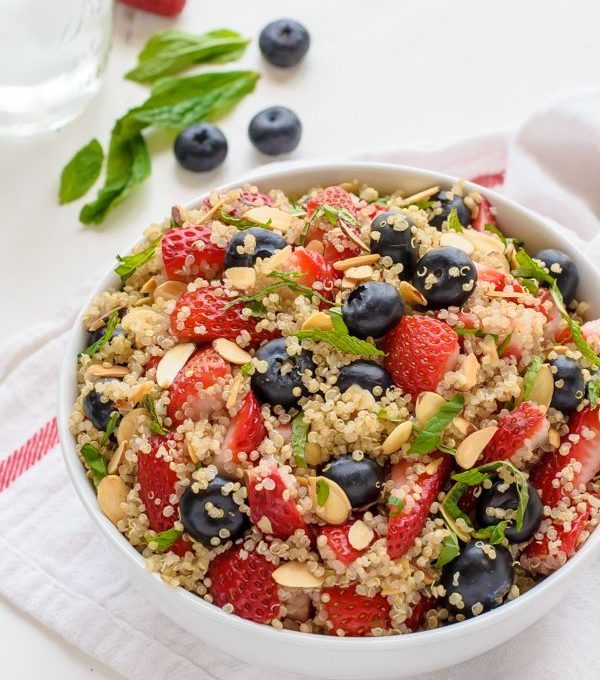 Photo Credit: Well Plated
Quinoa is full of protein. This beautiful dish is fun to bring to a holiday picnic or potluck.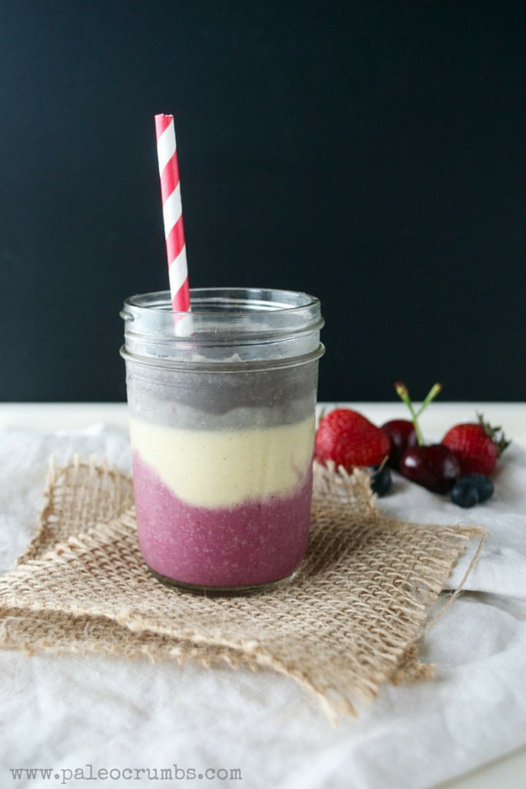 Photo Credit: Paleo Crumbs
This smoothie is full of fruit and protein. Smooth and creamy, it's a healthy and festive way to start your day.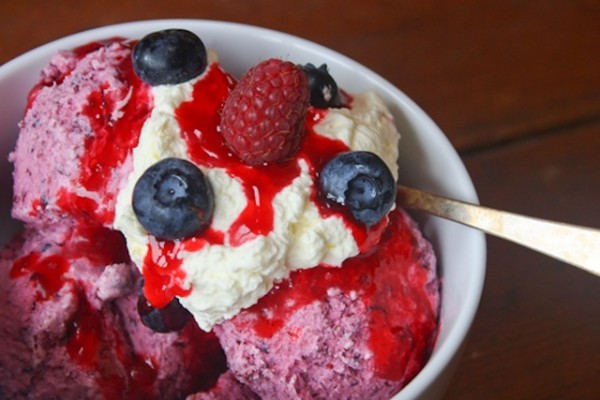 Photo Credit: Cave Woman Cafe
Who ever thought ice cream this decadant could be this healthy? Just the way we like it!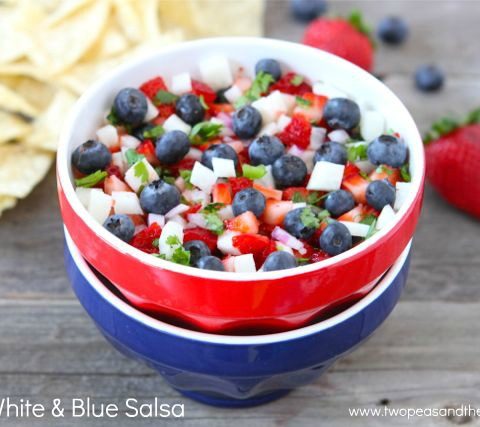 Photo Credit: Two Peas and Their Pod
Have you ever tried jicama? It is a funny-looking veggie that helps your belly digest food, helps keep you from getting sick, increases your energy, builds strong bones and even helps to make your brain smarter. And look what a pretty salsa it makes!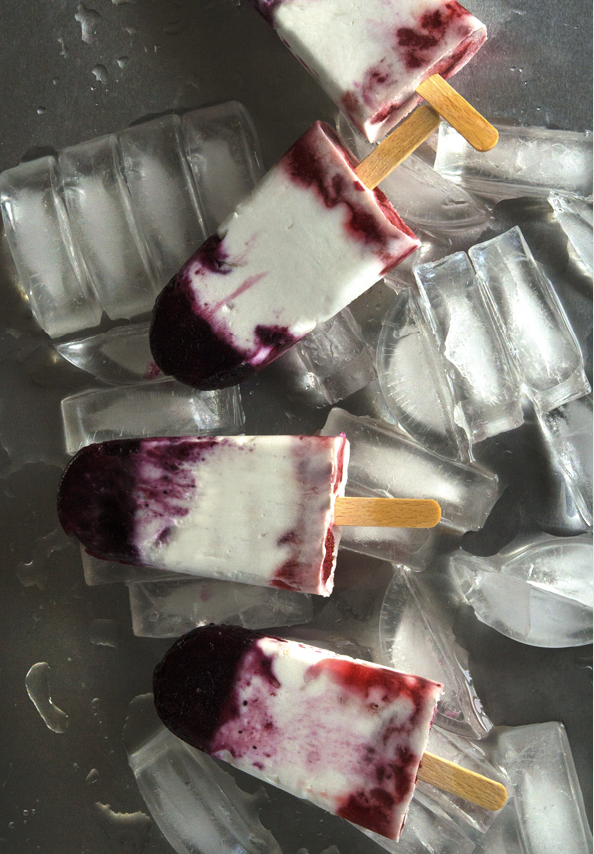 Photo Credit: Gluten Free On A Shoestring
Another easy pop to make, these are creamy smooth because of the coconut milk. It tastes just like a berry creamsicle!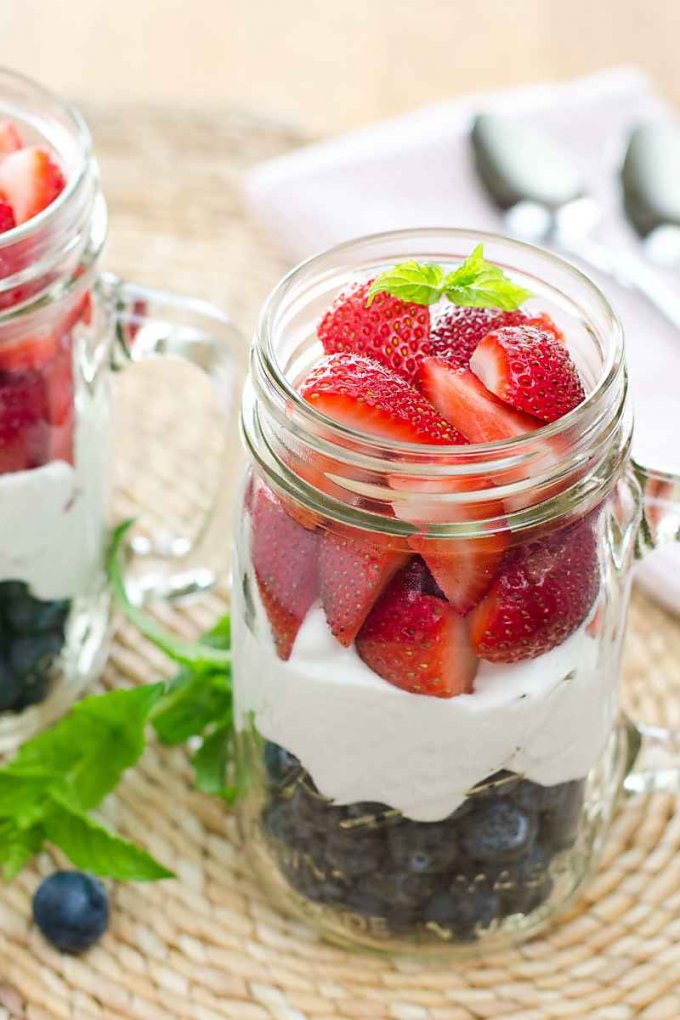 Photo Credit: Cook Eat Paleo
Coconut cream is one of our secret tricks to making yummy toppings. Here it is layered with fresh patriotic berries to make a flag in a jar. Healthy and so beautiful!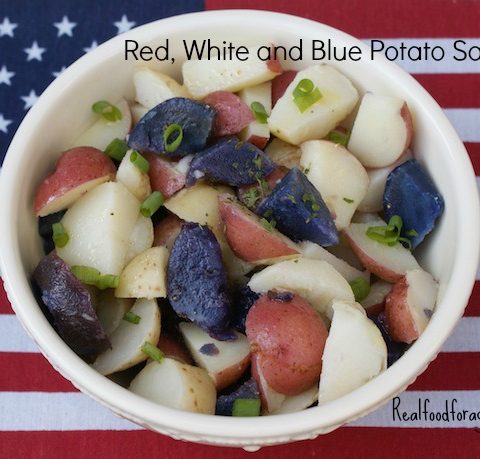 Photo Credit: Real Food Forager
Potato salad is the perfect side dish for any summer picnic or barbecue. But look how fun this potato salad is! Did you know that potatoes come in red, white and blue??
Photo Credit: Paleo Crumbs
Talia loves acai bowls! Acai tastes great, almost like an ice cream or sorbet, but it's super good for you! Acai berries are extremely high in antioxidants, so they help to boost your immune system and keep you from getting sick. They are also good for your heart, brain and skin, give you lots of energy, and help your belly digest foods. The berry is a purple color…..add some red, white and blue fruit and you have a beautiful 4th of July breakfast bowl.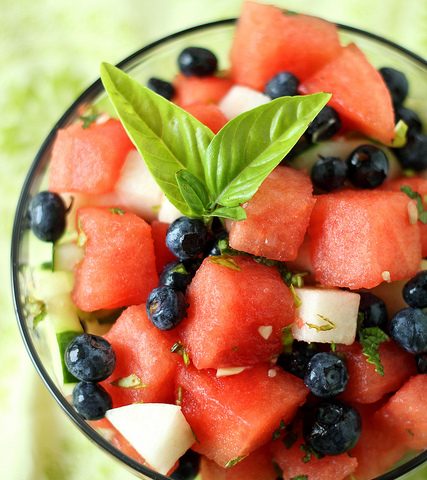 Photo Credit: Will Cook For Friends
Jicama comes through again to add some crunch and white color to this festive watermelon salad. The cucumber and mint make this salad super refreshing and a great addition to your backyard gathering.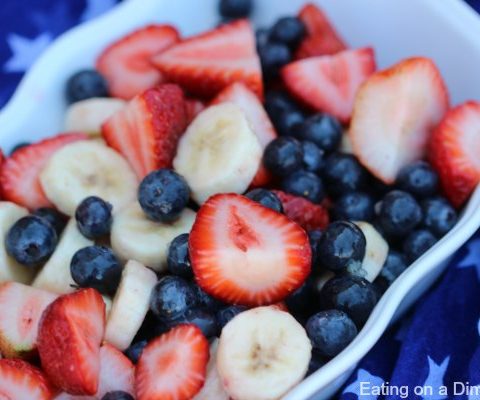 Photo Credit: Eating On A Dime
If you're in a rush and looking for a super-simple dish to bring to a weekend potluck, just add some cut up some strawberries and bananas to a bowl of blueberries and….voila!…you have a beautiful 4th of July fruit salad. Easy peasy!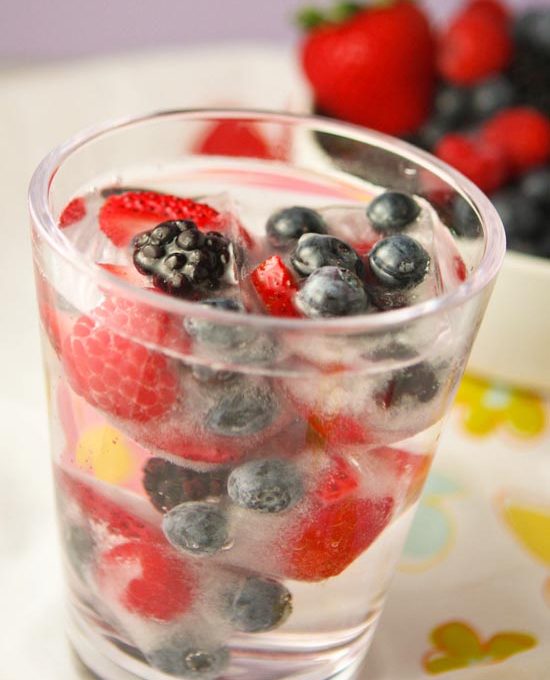 Photo Credit: Pip and Ebby
We can't wait to try this idea! This makes a plain glass of water feel like a very special treat. It's super easy too. Just put some fresh fruit into ice cube molds before adding the water and freeze! While mom and dad enjoy their special summer drinks, the kids can indulge and feel special too.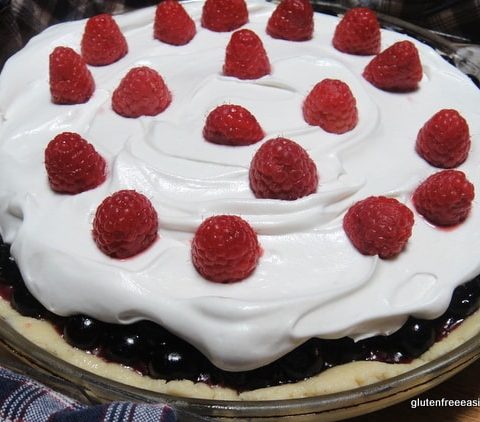 Photo Credit: Gluten Free Easily
No need to turn on the oven for this delicious pie! Keep the kitchen cool with this no-bake recipe. Decorate the top with raspberries, or even get creative and put the raspberries in lines and add some blueberry stars in the corner to design a flag.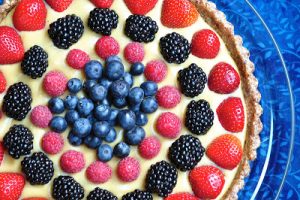 Photo Credit: Nourishing Meals
You'd think this creamy tart would have tons of gluten and dairy in all its yumminess…but it doesn't! Cashews make it creamy and rich, and the crust is made from almond and dates. Delicious!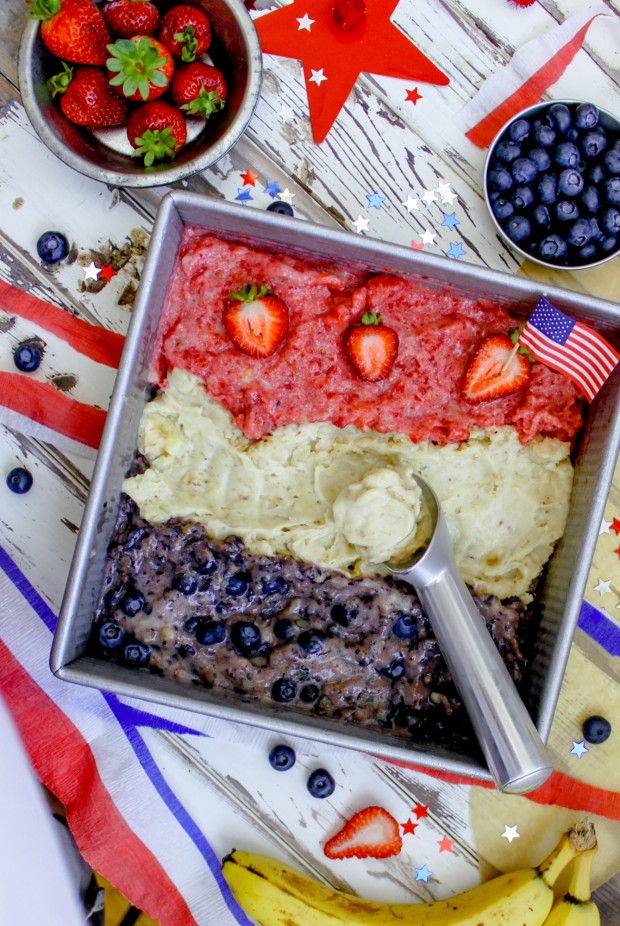 Photo Credit: Jerry James Stone
Simple and beautiful, all you do is freeze bananas, strawberries and blueberries. Then blend each fruit individually and layer in a pan. You can also use a Yonanas maker if you have one to blend the fruit. We have a Yonana machine and make homemade ice cream with it all the time. Yummy!
Photo Credit: Tia & Talia's Tasty Treats
We wanted to include this recipe in our roundup because we had so much fun making these and when they were done we thought…Wow, these are perfect treats for the 4th of July! The blueberries look like little stars in the pops and they are a great way to cool off after running around on a hot summer afternoon.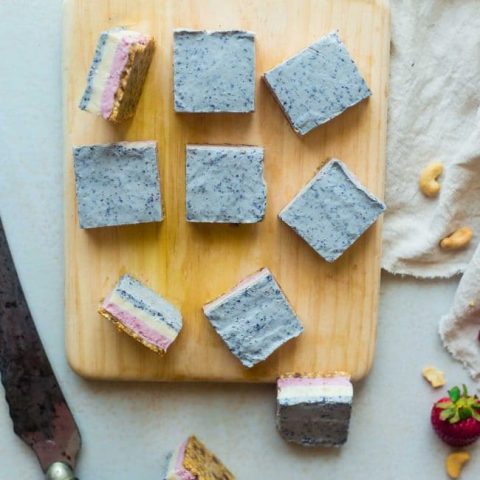 Photo Credit: Food Faith Fitness
Aren't these bars beautiful?! Made with cashews they remind us of cheesecake bites. Creamy and delicious!
We hope that you enjoy this 4th of July recipe round up of red, white and blue, gluten and dairy free snacks and desserts! And we wish you a very happy, fun and safe holiday weekend! God bless America!!