Summer is coming to a close, but it's still hot outside here in California. A great way to cool off and stay hydrated is with some delicious watermelon. When we were visiting Los Angeles this summer we got to cook with our mom's good friend, celebrity chef Devin Alexander, from "The Biggest Loser." Devin has written numerous bestselling cookbooks and she showed us how to make these fun Bearymelon Cookies from her The Biggest Loser Dessert Cookbook. They are super-cute, easy to make and we loved using the frosting bags to decorate them. And did we mention how yummy they were? And healthy too!
This is a great recipe to make on a hot summer day, as an afternoon snack, or with a bunch of friends at a party.
We had so much fun in the kitchen with Devin and decorating our bears.
And, of course, we had so much fun eating them. They were delicious!
We hope you enjoy making these too! Please send us a picture of your creation.
A huge thank you goes out to Devin for inviting us into her kitchen and showing us how to make this yummy treat. Thank you Devin!! Be sure to check her out on her website www.DevinAlexander.com and connect with her on Facebook and Twitter.
We'd love to have you as part of our TTTT family. Please subscribe to our channel. Thank you! See you again soon!
Media Personality, Healthy Comfort Food Chef, Weight Loss Expert, and New York Times Bestselling Author, Devin Alexander, is the Chef of NBC's "The Biggest Loser" and the author of 8 cookbooks including "The Biggest Loser Cookbook" Series and "The Most Decadent Diet Ever". Devin's unique approach to healthy cooking and her motivational personal story have landed her regular appearances on talk, news, weight loss and fitness shows for over a decade, making her America's Go-To Expert for decadence without consequence. Devin has shared her secrets through frequent appearances on The Today Show, Good Morning America, The Biggest Loser, Dr. Oz, Dr. Phil, The View, FOX, CNN, and others, and through over 500 magazine features including Prevention, Men's Health and Shape. She's coached thousands of pounds off others and has maintained her own 70-pound weight loss for close to 30 years. She truly lives and eats her message: you don't have to deprive yourself to be fit and healthy. For inspirational tips and guilt-free recipes visit her at www.devinalexander.com, on Facebook, Instagram and Twitter.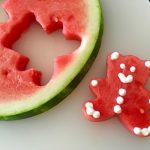 Bearymelon Cookies
2016-08-25 20:49:41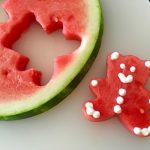 Ingredients
1/2" thick slices of seedless watermelon
6 teaspoons frozen "Cut the Crap" Whipped Topping (recipe below)
Instructions
Using bear-shaped cookie cutters, press into the watermelon to make bear "cookies."
Cut a small corner of a plastic baggie or pastry bag and place a small round pastry tip inside so that it fits snug in the hole. Fill the baggie with the whipped topping and use to decorate the "cookie."
Eat immediately.
Enjoy!
Tia and Talia's Tasty Treats http://www.tiatalia.com/
"Cut the Crap" Whipped Topping
2016-08-25 22:12:05
Ingredients
3/4 cup light agave nectar
3 large egg whites, at room temperature
1/2 teaspoon cream of tartar
Instructions
Fill a medium saucepan with water until it is about one quarter full and bring to a boil.
While the water is coming to a boil use an electric mixer to beat together the agave, egg whites and cream of tartar in a large metal mixing bowl.
Once the mixture is well blended, use an oven mitt to place the bowl over the pot of boiling water. Continue beating for about 7 minutes, or until stiff peaks form. Remove from heat and continue beating for another 5 minutes until peaks are very stiff.
Tia and Talia's Tasty Treats http://www.tiatalia.com/