It's Christmas time! That means that it's also Christmas cookie-making time! One of our favorite times of the year. Our mom grew up making these Italian waffle cookies with our grandma and now she makes them with us. We've changed them a little and make them with gluten-free flour so Talia can eat them, and they are just as delicious! We also like to use organic coconut sugar instead of white sugar. It makes them slightly less sweet and a little darker in color, but still super tasty!
We love how these cookies look just like snowflakes. Especially once you dust them with powdered sugar. Aren't they pretty?!

We make tins of these for our teachers and all our neighbors every year. They make great gifts and are perfect to bring to cookie exchanges. You can also make homemade ice cream cones and cannolis with this recipe. All you do is wrap them around a cone or tube when they are still warm and let them cool. Easy, peasy.

We hope that you enjoy this recipe and that you and your family have a very Merry Christmas! If you like these recipes, please subscribe to our channel!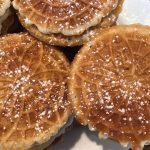 Grandma's (Gluten Free!) Pizzelles
2017-12-20 16:51:50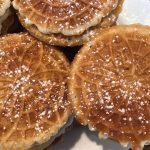 Our mom made these classic Italian cookies with Grandma every year at Christmas time when she was growing up. Now our mom makes them with us...gluten free! They are a beautiful and tasty waffle cookie that looks just like a snowflake...perfect for the holiday season.
Ingredients
1 1/2 cups gluten free, organic, all purpose flour baking mix
2 tsp baking powder
3 large eggs
3/4 cup of organic sugar or coconut sugar
1 Tablespoon vanilla extract
1/2 cup melted butter or coconut oil
Confectioner's sugar for dusting
Instructions
In a medium bowl mix together flour and baking powder. Set aside.
In a separate bowl, beat together eggs and sugar for 1-2 minutes.
Slowly add vanilla and cooled melted butter/oil to egg mixture in a steady stream and mix for 15 seconds.
Add dry mixture to wet and blend just until combined. Your batter will resemble a sticky dough.
Warm up a pizzelle press and spray lightly with coconut cooking spray.
Using 2 spoons, add a Tablespoon-size dough ball to each side of the hot press. Close press and cook for about 1 minute or until light indicates that the cookies are done.
Carefully remove each pizzelle with a fork. Let cool.
Lightly dust with confectioner's sugar.
Pizzelle cookies can be stored in an air tight container for several weeks.
Notes
You can also add flavor to these cookies, like anise or even orange.
These can also be used to make ice cream cones or cannolis. When hot roll them around a cone or tube.
Tia and Talia's Tasty Treats http://www.tiatalia.com/