We met Organic Soup Kitchen's Executive Director, Chef Anthony Carroccio, and Chief Operations Officer, Andrea Slaby, when visiting Santa Barbara. They are so lovely and warmly invited us into their home, just like they do with so many underprivileged folks in their hometown.
Anthony and Andrea have dedicated their lives to helping others. They seek to heal others by helping to build strong immune systems. They created Organic Soup Kitchen so that they could help the needy and those less fortunate by offering nutritional therapy and functional education, as well as feeding organic soup to the homeless, underprivileged women and families, cancer patients, veterans and low-income seniors. Their mission is to work "to ensure that every family and individual has access to quality healthy food, regardless of their race, gender, religion, or financial status."
What amazing people! We loved meeting them and we loved making this delicious Melon Gazpacho Soup with them. It was our first time trying cold soup and it was perfectly refreshing on a hot summer day.
This soup is quick and easy to make and makes a healthy snack or lunch. It's full of nutrients and cleanses your body. Think of it like a melon bath for your insides. It flushes out all the dirt and tastes super yummy!
If you're ever in Santa Barbara and want to help out Chef Anthony, feel free to volunteer in his kitchen. He would love to meet you!
We hope you enjoyed this episode. If so, please subscribe and share with your friends. Thank you so much! We are grateful for your support.
Enjoy!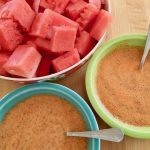 Melon Gazpacho
2017-08-28 23:26:22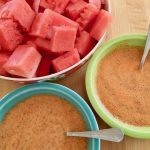 A quick, delicious and nutritious soup to help you cool off in the summertime.
Ingredients
8-10 cups watermelon, fresh (after blending)
1 red bell pepper, diced
1 cup tomatoes, diced
1 cup cucumber, diced
½ cup cilantro, fresh
½ cup mint, fresh
2 tablespoons olive oil
1 juice of lemon
1 juice of lime
½ tsp. cumin
fresh ground black pepper (to taste)
sea salt (to taste)
Instructions
Blend all ingredients together and season to taste.
Easy Peasy.
Tia and Talia's Tasty Treats http://www.tiatalia.com/