Fall is officially here! Although, you really wouldn't know it with this heat wave we are having here in California. Even though it still feels like summer, we are excited to start making autumn-inspired recipes as the warm smells of spices start to fill our house.
Recently, we traveled up to Santa Barbara to (un)cook with our dear friend, and celebrity chef, Melissa Costello, owner of Karma Chow. Missy is a holistic nutritionist, vegan chef for stars like Tony Horton of P90X fame, and author of The Karma Chow Ultimate Cookbook and The Clean in 14 Detox. She's an all-around superstar to us!
She welcomed us into her kitchen and taught us how to make her super-yummy, raw, vegan donut holes.
This recipe is perfect for the fall season because it uses warming spices like cinnamon and nutmeg. Spices like these make us feel like we want to go jump into a big pile of leaves, snuggle up to some football with our dad, and carve pumpkins with our mom. They bring to mind all the fun activities of autumn. Plus, these "donuts" are great treats to pack into our lunch, to snack on after school, or even for a quick running-out-the-door breakfast.
These donuts are made with walnuts and cashews. Did you know that walnuts contain good fats called omega-3s, that support our brain's health? They even look like a brain! How cool is that?! Make sure you eat the walnut skin too because it contains the most antioxidants to help keep you from getting sick.
This is a really easy recipe to make and we had a lot of fun rolling them into balls. They were the perfect car snack for our road trip back home.
An extra bonus to cooking with Missy, is that we got to spend some time with Pumpkin, her adorable doggie! We love Pumpkin! Isn't she cute?!! She even has her own Facebook page called Pumpkin Therapy.
We had such good time making these with Missy, and hope you have fun making them too! If you're looking for more healthy, vegan recipes have your parents check out Missy's books. They have lots of tasty treats that are fun and easy for kids (and adults!) to make and eat.
Thanks so much for cooking with us Missy! We love you!!
We hope that you like our show. Please let us know if you have a favorite recipe that you'd like for us to make. And please subscribe to our channel! Thank you!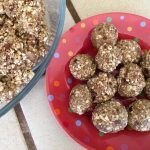 Raw Vegan Donut Holes
2016-09-26 15:55:06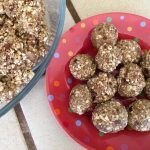 Donuts are an American favorite, but unfortunately they are loaded with sugar and fat. An evil combination when it comes to your health. These delicious donut holes are raw, vegan and delicious. Made with cashews and walnuts as a base, they are great for your brain, as well as providing sustained energy.
Ingredients
1-1/2 cups cashews
1/2 cup walnuts
1/4 cup shredded coconut
1/2 teaspoon sea salt
5 dates, pitted
1/4 cup coconut nectar (or grade B maple syrup or brown rice syrup)
1 teaspoon cinnamon
1/4 teaspoon freshly grated nutmeg
1 teaspoon vanilla extract
Instructions
In a food processor cup fitted with the s-blade, grind the cashews, walnuts, coconut and sea salt to a crumbly consistency but leaving some chunks of nuts.
Add in remaining ingredients and process until the mixture forms into a sticky dough. Remove lid and scrape out into a bowl. Roll into small truffle size balls.
For extra deliciousness, you can also roll in cinnamon or shredded coconut.
Store in refrigerator.
Notes
Feel free to get creative with your flavors by trying different combinations of nuts.
Tia and Talia's Tasty Treats http://www.tiatalia.com/