Happy Thanksgiving everyone! We hope that you had a great holiday yesterday! Thanksgiving is one of our favorite days to celebrate because it is all about gratitude and appreciation. We love counting our blessings, and this year we are especially grateful because we've been able to spend it with 8 of our 13 cousins, 8 of our aunts and uncles, and our grandparents! Our Grandma and Grandpa try to gather us all together each year to celebrate what we call "Merry Thankmas." We celebrate Thanksgiving one day and Christmas the next, and create tons of fun memories together.
This year we traveled from all over the United States to meet up in Las Vegas, Nevada. Grandma rented a huge house so we could all stay under one roof. There is a game room, a pool and lots of outdoor play areas so there is plenty to do to keep us all busy. Plus, we love to cook and eat all our meals together. We all gather around a few big tables, say grace together and then laugh and tell stories while we eat. It's some of our happiest times. Last night we had a huge feast and this morning we have tons of leftovers. We thought this would be the perfect time to share the show that we did with Chef Jeanne Cheng from Kye's Restaurant in Santa Monica, CA. She taught us how to make Turkey Kyerito sandwich wraps. They are the perfect day-after-Thanksgiving meal to make to use up all your delicious leftovers. Plus they are gluten-free and paleo….and super yummy! Jeanne named her restaurant after her son, Kye. He loves to cook with her, just like we love to cook with our mom, and he inspired her to create the Kyerito.
Did you know that turkey is loaded with protein? It helps to build your muscles to make you stronger. Try to make sure your turkey is organic and raised without antibiotics. If the turkey eats medicine that means you're eating that medicine too!
Have fun making these Kyeritos! They are great to make for your school lunchbox too!
Thank you so much for watching and subscribing! We are so grateful to get the opportunity to share these healthy, low-sugar, gluten and dairy-free snacks and desserts with you on YouTube and greatly appreciate your enthusiasm and support! Lots of love to you and hope you have a wonderful rest of your Thanksgiving weekend with your family and loved ones.
Enjoy!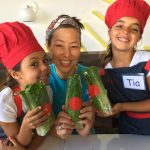 Deli Turkey Kyerito
2016-11-25 17:31:47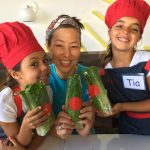 A delicious, gluten-free sandwich wrap that's easy to make and perfect for lunch boxes.
Ingredients
2 leaves of organic romaine lettuce
1/2 cup organic brown rice
1/3 cup organic sprouts
1/3 cup sliced organic snap peas
Sunflower seeds
2 slices free-range, organic turkey
Organic mayonnaise
Lots of Love
Instructions
Take a piece of cellophane and stack two pieces of romaine lettuce on top.
Wet your fingers to keep rice from sticking and dump the rice onto the middle of the lettuce and press down to flatten.
Then layer on top the sprouts.
Then the snap peas.
Sprinkle sunflower seeds on top.
Finally, top with the sliced turkey and mayonnaise.
Then fold the turkey in half to hold in the mayonnaise and wrap up the lettuce.
Tightly roll in the cellophane.
Seal with scotch tape to hold it together in the middle and on the bottom.
Peel back the cellophane to eat!
Enjoy!
Tia and Talia's Tasty Treats http://www.tiatalia.com/