Top o' the morning to you! Start your lucky, little leprechauns' day off right with this Rainbow Toast, colored with healthy superfoods.
This sweet and creamy nut butter is made with cashews and tastes delicious all by itself. But since our favorite color is rainbow, we decided to make it even more fun and color the butter! We've been seeing this trend online and we wanted to try it out for ourselves. It was easy to do, our toast came out beautiful, and we even got lots of nutritious superfoods in for good measure.
As you know, we don't like to use chemicals, so we used beet powder for the red, goji berry powder for the orange, turmeric powder for the yellow, barley grass juice powder for the green, spirulina for the bluish green, and açai powder for the purple.
Eating a variety of brightly colored superfoods help you get all the antioxidants, vitamins and minerals you need to be healthy. They help clean your blood, digest your foods, enhance your immune system and boost your energy! Most of these superfoods have lots of antioxidants that help to keep you from getting sick, and many are good for your brain to help make you smarter. Spirulina even has plant-based protein to make your muscles stronger!
So if you eat this super-charged Unicorn & Leprechaun Rainbow Toast before school you're sure to find the pot of gold at the end of the rainbow!
We hope you enjoy this tasty treat! And we wish you all a very happy St. Patrick's Day!!
If you like these recipes, please subscribe to our channel! Thank you!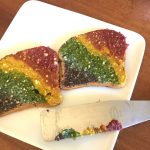 Unicorn & Leprechaun Rainbow Toast
2017-03-15 15:34:33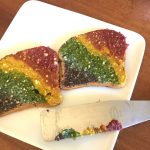 Top o' the morning to you! Start your lucky, little leprechauns' day off right with this cashew nut butter Rainbow Toast, colored with healthy superfoods.
For the Nut Butter
2 cups of soaked, raw cashews
1/4 cup almond milk
1/3 cup honey
1 teaspoon vanilla powder
2 Tablespoons of coconut oil
The juice of 1 lemon or lime
A pinch of sea salt
Lots of Love
Color ideas are
Red - Beet powder, pomegranate powder (makes more of a lighter, pink color)
Orange - Goji Berry powder, a blend of Beet and Turmeric powders
Yellow - Turmeric powder
Green - Barley Grass Juice powder, Matcha powder
Bluish-green - Spirulina
Blue - Blueberry powder
Purple - Açai powder, Maqui Berry powder
Instructions
Soak the cashews in water for about 2 hours and drain.
In a food processor, mix all the nut butter ingredients until smooth.
Then, split the butter into 6 small bowls.
To make the colors, mix a different superfood into each bowl and blend well. Start with about 1/2 teaspoon of powder. Add more if desired.
Then, toast 2 pieces of gluten free bread and spread the colors on top in a rainbow pattern.
Voila! Enjoy!
Tia and Talia's Tasty Treats http://www.tiatalia.com/